Generating Excel Formulas with AI: A Step-by-step Guide using GptExcel
Are you tangled in elaborate Excel formulas, Google Sheets functions, or Airtable operations? The solution to your spreadsheet woes is here. Introducing GptExcel, an AI-driven Excel formula generator designed to augment your productivity by expeditiously generating formulas across various spreadsheet platforms.
Let's guide you on using GptExcel's effortless and intuitive interface to generate Excel formulas.
Your Quick Guide to GptExcel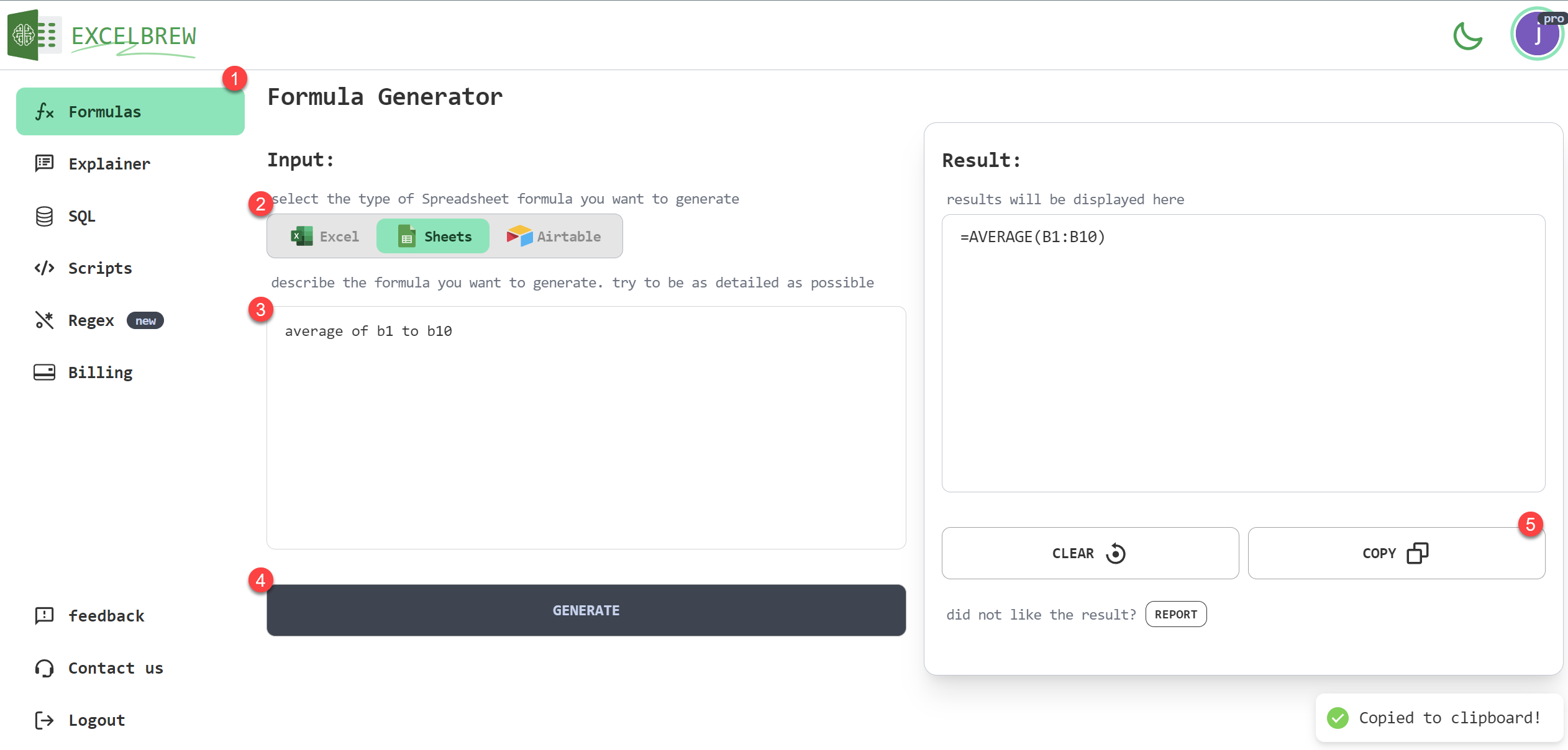 Step 1: Navigate to Formulas Page
Start your journey towards seamless formula generation by clicking on 'Formulas' on the navigation menu on the GptExcel website.
Step 2: Choose Your Spreadsheet Platform
GptExcel extends its support to Microsoft Excel, Google Sheets, and Airtable. Post-clicking 'Formulas', choose your desired platform from the presented option buttons.
Step 3: Input Your Prompt
Upon platform selection, you'll notice a text field awaiting your prompt, be it an operation you wish to perform, a function you intend to delve into, or a labyrinthine task you long to simplify.
Step 4: Generate Formulas With a Click
After inserting your prompt, press the 'Generate' button, and let GptExcel's smart AI evaluate your request and craft an appropriate formula designed exclusively for your needs.
Step 5: Copy and Deploy the Generated Formula
GptExcel renders the generated formula with an inclusive option to copy it to your clipboard, accessible with a simple click for effortless incorporation into your spreadsheet.
GptExcel has intricately simplified the complex world of spreadsheets. Redefine your workflow in Microsoft Excel, Google Sheets, or Airtable by utilizing the strength of AI via GptExcel's proficient formula generator.
Embark on your journey to elevated spreadsheet proficiency today with GptExcel. Enhance your workflow, save precious time, and reveal improved capabilities as you shift your focus from grappling with complex formulas to making the most of your data.